A few weeks ago I joined up in this awesome Valentine Blogging Party! We were all partnered up with another blogger to send a Valentine's Day gift to.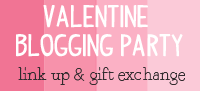 She read that my New Years resolution was to start baking more, so she sent me a wonderful baking package!
Included were...
-Heart silicon molds
-Valentine's cupcake cups and toppers
-Heart (giant) cookie decorating kit
-Cookie cutters (shaped like hearts of course)
And a cute card!
I'm so excited to use all these adorable things. I'm thinking of using the giant cookie kit this weekend and perhaps the cupcake cups for a Valentine's Day potluck I'm attending.
I'm kind of in love with silicon baking things...
Thanks so much Holli! I hope you enjoy your gift too. :)
Here
is Holli's post about what I sent her.
xoxo,
La Mer